About a year ago, I earned my Teaching English as a Foreign Language (TEFL) certificate through the International TEFL Academy (ITA). I took the online course, and it was a great experience. While Life Stuff (and, let's be honest, a big ol' dose of fear) has gotten in the way of my going abroad to teach so far, it's still something I think I would like to pursue someday.
When I was first considering the idea of teaching abroad, one place that I really wanted to go to was (and still is) Spain. Spain is actually a fairly popular destination for teaching abroad, but it can be tricky to go about doing so legally, especially as a US citizen.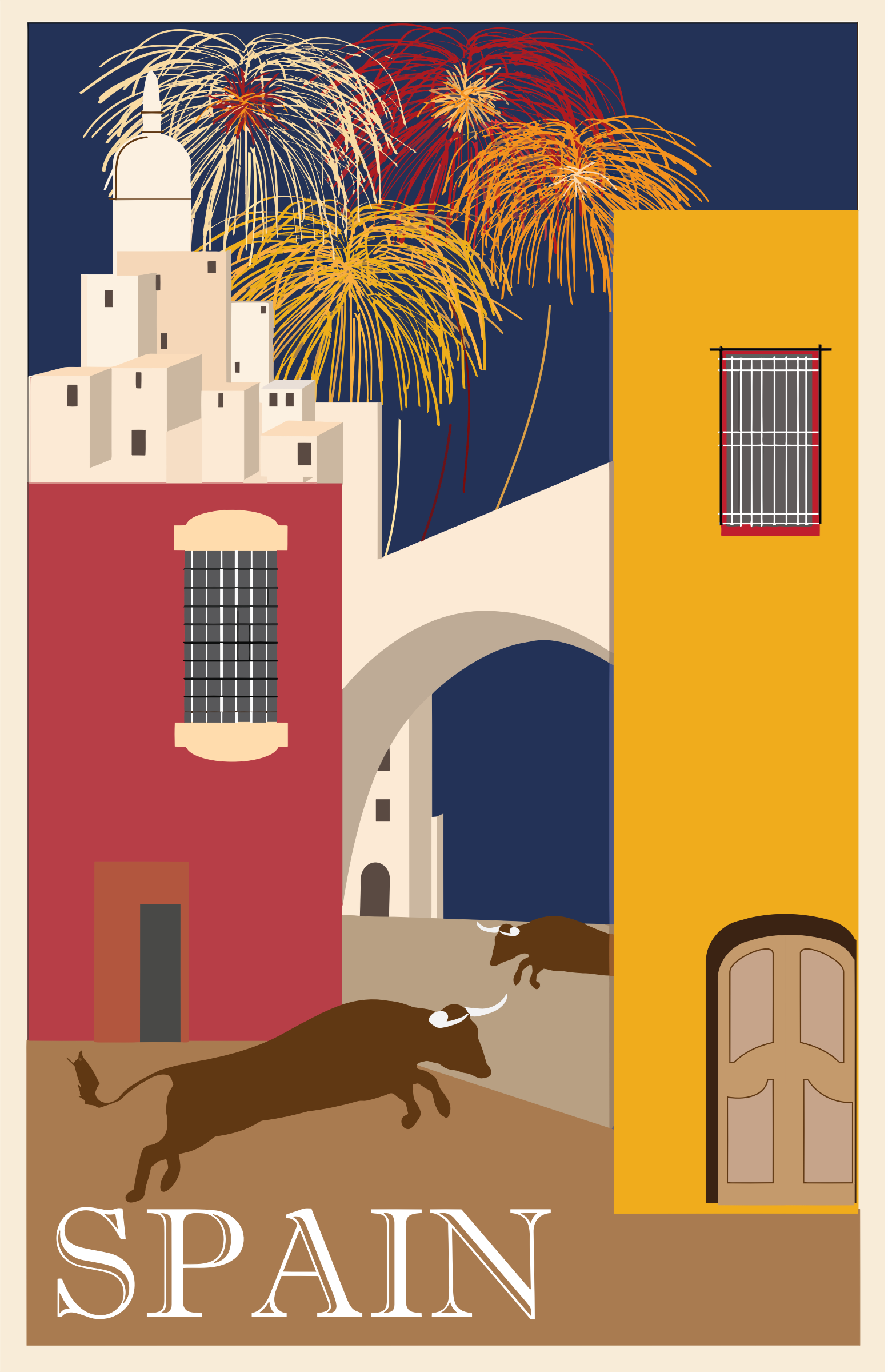 The United States doesn't have a working holiday agreement with Spain the way Canada does, and it's just about impossible for someone from the US to get a work visa in Spain for teaching English. (Side note: if you HAVE managed to get a work visa for this and are a US citizen, I would love to hear your story.)
There are some people who choose to just go over on a tourist visa, overstay it, and teach under the table. And while this isn't uncommon, it's not something I would want to do. Knowing my luck I'd be the one sorry soul to be banned from the EU forever.
I've listed here some of the ways in which US citizens can teach English in Spain legally. These aren't the only ways to teach legally in Spain, but they are some of the more popular ones, and they are all legitimate. 
North American Language and Culture Assistants in Spain (Auxiliar de Conversación)
This is probably the most popular and well-known program for teaching English in Spain. This program is run by the Spanish government, and places native English speakers from the United States or Canada into public schools throughout Spain to work as Conversation Assistants.
Participants spend an entire academic year in Spain, from October to May. Placements are available throughout the country and are given on a first come, first served basis.
I know that there have been ITA alumni that have done this program, but it isn't necessary to have a TEFL certificate to apply. You can learn more from the official website, here.
I first heard about this program through the blog Young Adventuress when I was first considering the idea of teaching abroad and doing research. Liz, who runs the blog, has written extensively on this topic, and I highly recommend going to this page, where she indexes all of the posts she had made about teaching in Spain. She highlights both the good and not-so-good parts of this program, and it's a really helpful resource if this is something you are considering.
Meddeas
This is another program that works to place individuals in schools as Conversation Assistants. You are given a stipend each month, which varies depending on a couple of different factors, including whether or not you choose to do a homestay or live on your own.
Depending on which program you apply to, there are different educational requirements Medddeas offers Advanced, Graduate, and Speakers programs. The Advanced program requires a bachelor's degree in English as well as a TEFL certificate, and the stipend is 912 Euros per month for students who live independently or 462 Euros for those who choose the full room and board homestay accommodation option. 
The Graduate program requires participants to have a bachelor's in any subject, and pays 862 Euros for independent living and 412 Euros for the homestay option. The final program, the Speakers program, accepts participants who either have a bachelor's in any subject, are current university students, or who are taking a gap year. This program pays 312 Euros a month and participants must stay with a host family, where full room and board will be provided. 
Unlike the government program, which only starts in October, you have the option to start in January. 
Meddeas is another program that I know ITA alumni have gone through, so it is definitely a legitimate program. There is more information on their website, and you can also go on there and request more information and then they will send you an information packet via e-mail. The information you receive is pretty comprehensive and includes things like application procedures, housing options, and stipend amounts. 
BEDA
With BEDA, individuals are placed in private Catholic schools around Spain to work as Conversation Assistants. From what I hear, most posts are in Madrid. You can reapply to the program each year for as long as you want, as opposed to the government program which, I believe, caps off at two years of participation. Another feature of this program is that you are required to take a class once a month that typically covers some kind of professional development topic.
From what I've read, people seem to like this program a little better than the government program and claim that it is better organized. However, that doesn't mean that people haven't had bad experiences with it. If you want to learn more about this program, I would suggest starting with this article over at on Young Adventuress, and this one from Curiosity Travels.
CAPS
CAPS is a program the puts native English speakers in classes with students between the ages of 3 and 16 to work as Conversation Assistants. Participants will spend the length of an academic year in the program, and they will stay with a host family. They will have to work for at least 25 classroom hours a week. Participants will receive a stipend of either 315 euros or 465 euros each month, depending on how much prior education and experience they have. The CAPS program also includes a TEFL training program through a Spanish university. More information can be found here.
This is not a program that I am personally very familiar with, but it looks interesting. It also has good reviews on Go Abroad, always a good sign, which you can see here.
Student Visa
Another way to teach (semi)legally in Spain is to get a student visa. I say "semi" because, legally, you are only supposed to work for 20 hours a week while on a student visa, and it is supposed to be at a job that pertains to your course of study. So, if you are on a student visa to take Spanish classes, teaching English doesn't really fit the bill. Still, having a student visa allows you to live legally in Spain, and can make it easier to find a job once you are there.
There are a couple different ways you could go about getting a student visa. The first would be to find a school and program you want to attend and go through the whole process yourself. The other is to go through a program that is specifically geared toward people who want to get a student visa in order to be able to teach.
Like I said before, I earned my TEFL certificate online through the International TEFL Academy. ITA has a program for those who want to live in Madrid, teach, and take Spanish classes to get a student visa. In order to do the program through ITA you either have to take one of their on-site TEFL courses or their online TEFL course. 
The price tag for this program is a bit high, but from those I have talked to who have done it, it's worth it. In addition to Spanish classes and visa support, you also get to take part in cultural activities and receive job search guidance once you arrive. The program is offered through a partnership with TtMadrid, an organization that you can also apply to directly. 
There may be other programs that assist you with getting a student visa to teach in Spain, but I don't know what they are. If you know of any, I would love to hear about them.
If you decide to sign up for an ITA program, I'd love it if you used my referral link. This means I get a commission from your purchase at no cost to you, which helps me keep this site up and running. Thank you!)
Other options for teaching legally in Spain?
Some other programs that allow you to teach in Spain include UCETAM  (Also, view this blog post), or CIEE. I have also heard that there are some private language schools that will allow you to take Spanish classes through them in order to get a student visa, and then have you work for them teaching English. I have not been able to find a lot of information on this option, so if anyone has any experience doing that I would love to know.
I have also heard of people taking classes through the Oxford House TEFL program in order to get a student visa and work. It looks like they have TEFL courses as well as professional development courses. They are based in Barcelona and I know that some ITA alumni have used them, but I don't know much else. It looks like an interesting program, though!
Have you taught English in Spain or elsewhere? Would you like to? Comment below and let me know!
Pin Me: